Indiana. Our motto is We're Above Kentucky. It used to be Hey, at Least it's not Arkansas, but militant Johnny Cash/Glen Campbell fans gained control of the legislature and got it changed. Unlikely as it may seem, interesting things do occasionally happen here, such as the recent Battle for Daylight Saving Time. But this is ComputerMusicGuide.com, so I'll describe my recent visit to Fort Wayne, where Sweetwater Music maintains their fine campus and distro center.
If you're a musician or gear nut passing near, it's well worth stopping in. They have several state of the art studios, a very nice performance theater, various conference halls, classrooms, and of course several large instrument and gear showrooms, all in a building that's more like a shopping mall than a music store.
For the annual two day gear fest, several large tents are added to accommodate a variety of gear mfgrs, grassy performance venues and flea markets for used gear. They provide an acceptable cafe/food court for their employees which is open to the public and food prices are not at all criminal. This square dealing is praiseworthy because they're a few miles from the nearest anything at all and they could easily get away with a bit of gastronomic gougery.
At least a hundred seminars, classes, workshops and gadget demos were offered so you couldn't see them all, but I was able to attend several events that were of interest to me.
The keynote assembly hosted by Thomas Dolby was the high point of the weekend for me. Of course it was a treat to hear him perform four songs, but he's also a very entertaining speaker who offered lots of humorous stories and pics:
"I started out as a child."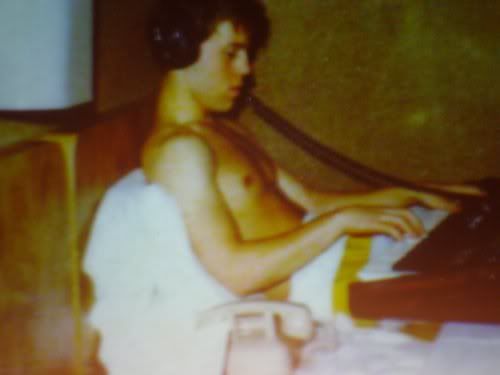 For a gear fest, however, his setup was notably minimal: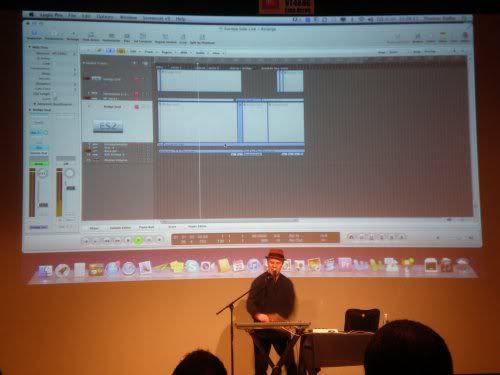 Yep, just a mic, a controller, a pad box and a lappy running Logic Pro.
But here's a clip of the show that proves it's all he needed:
Here's a few random pics from the gear tents:
– Mandatory Moog pron:

– Manley, yes, but Aye like it too: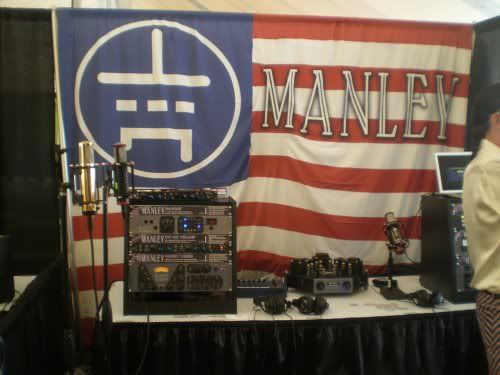 – No Gus. I asked.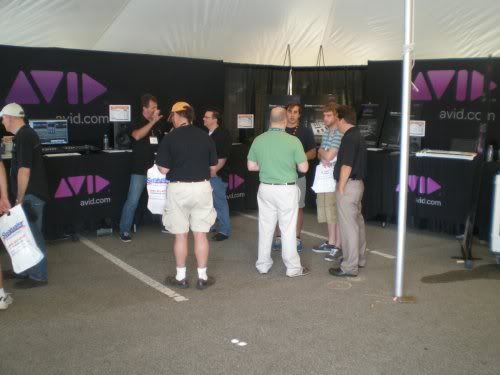 – No Rich, either.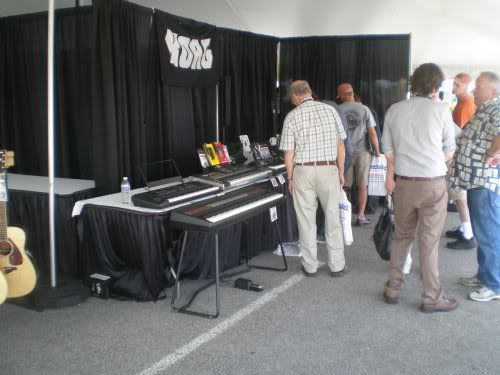 I attended several other programs dealing with tracking live instruments,
mixing tracks, mastering, DAW tricks & tips, ect.
Very enjoyable were two sessions I attended featuring Craig Anderton.
The first was a presentation explaining how useful a knobby interface still is,
even if you're totally ITB. In the pic below, he tackles an age old debate from
the ground up: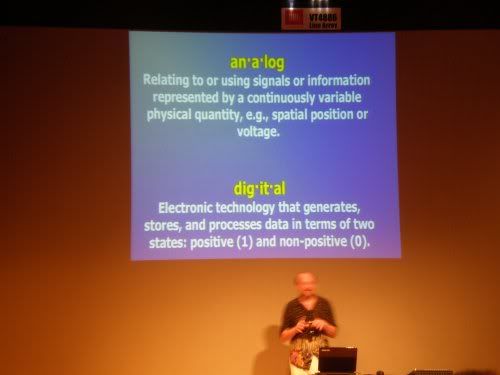 You may have noticed he's on a DJ kick now. I'll admit he did make Traktor look like fun…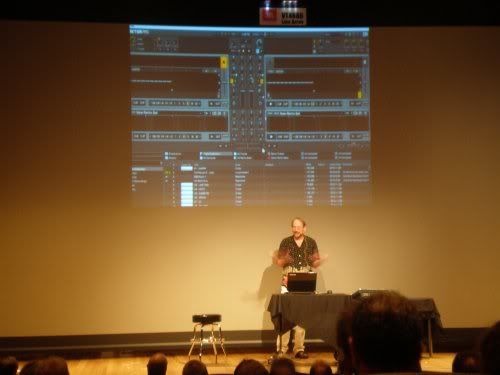 His other program was a change of pace, in which he presented "EM Live! — an interactive, informative workshop version of Electronic Musician Magazine filled with tips, techniques, and opinions about gear and how to use it." He explained he was trying something new, which was evident from the relaxed format of the program and the fact that the time was up before he'd covered all the planned material. It was very successful and I'm sure everyone would have happily stayed longer, but we had to make room for the next program. (Note to Sweetwater: give him more time next year.) He discussed several topics (yes, he drove the Traktor out again), indulged the audience in many questions, and hosted a few live interviews. Here's Moog's Asher Fulero displaying the new MoogerFooger delay thingy:
I probably shouldn't mention this, but when Anderton found out
I was there he shamelessly pestered me for a picture with him.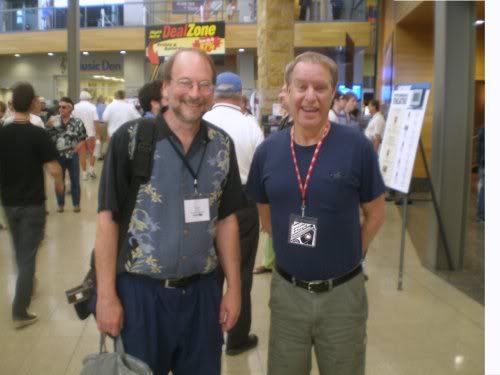 But of course you know it was I who did the pestering. Mr. Anderton
was extremely gracious and more than willing to humor yet another weird stalker
fan who asks "Hey do strangers ever come up to you and say they feel they
know you because of Harmony Central?"
A few final thoughts:
– The gender inequity was worse than a Rush concert. The few female types present were mostly comprised of the GF/wife class, a few Sweetwater employees and gear reps, a smattering of flannel folk fems and one or two Glamorous Lead Singers.
– I was surprised by the advanced maturity of the crowd. I believe I was very near the median age.
– Usta be, you only had to worry about jerks who wouldn't turn off their cell phones in a theatre. Now there's Laptop Doosh Guy, who brings his ultra bright lappy to the program with him so he can blind the people behind him in the darkened auditorium. Dim it, ya dimwit! Lots of folks were taking viddies with iPads, but they weren't nearly so bright.
– Note to me: don't leave the good camera home next time.
– Why do people stop and chat right in the middle of a busy hallway??!! Yes, you! Quit it! Go stand by the wall and talk about "Whur yuh wunna go now?" "Ah dunno how bout you?" "Ah dunno neither." "Let's slowly shuffle three or four steps and stop again." "Nah ah think ah'd ruther stan' here 'n loudly phone somebody." "Gud ideer, me too."
– Sheesh.
PlinkFloyd
---