I don't know in which sub-forum this should go. I'll let ModeroSonus sort it.
Anyone care to discuss/list mics? We probably all have at least one. Even if you don't sing, you need to vocode your naughty robot lyrics.
I'm no expert, so I'll just list a few I've used.
The first 'good' mic I bought was a headworn
Shure SM-10
. I moved around too much, though, and the conductors in the cord were always breaking. I finally eschewed it for a couple venerable
SM58
s.
I bought them used in the early 80s, used and abused them for fifteen years, dropped them, swung them around my head by the cords, regularly bathed them in beer fumes, and sold them for around what I paid for them.
A few years ago, I got a $30 Behringer
XM8500
. (LOL at the name. Geez, can't they even
try
to disguise the fact that they reverse engineer stuff? What's next, the
Juniper-8
?) Like lots of their stuff, it's good enough, especially for the price. It has more bottom than the 58, but that's what EQ is for. I rigorously A/B tested the Beh and the 58 by side by side recording a bit of acoustic piano, and the highly scientific Jingling Keys Test, and I could EQ them to sound exactly the same (to my ears). Maybe it won't handle as much SPL, idunno. It's probably not as robust, but for the price, hey, it's a Timex.
I also mounted an
EV 649b
dynamic mic on my tenor sax. I still have it somewhere. It looks like this: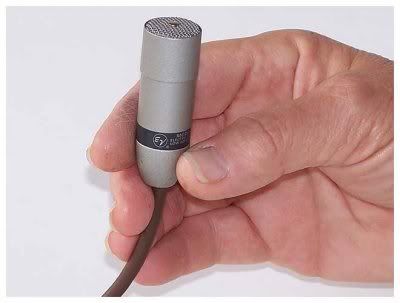 TopCat and I have
Oktava 319
s. I may (or maybe he will) blather more about them if anyone so desires.
I have the shockmounts for mine, neener neener, TC