So, you've all been dying to know how Zendrum pads are constructed, right?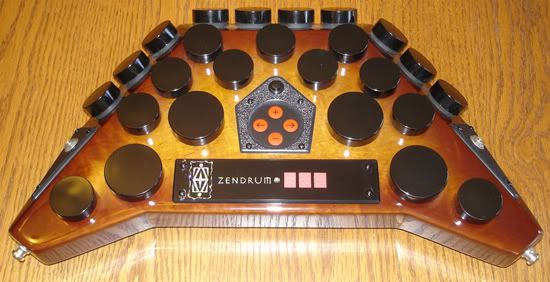 Wut? I'm the only one? Well, since I marked up and labeled this nice drawing, I'll just post it to myself then. :sniff: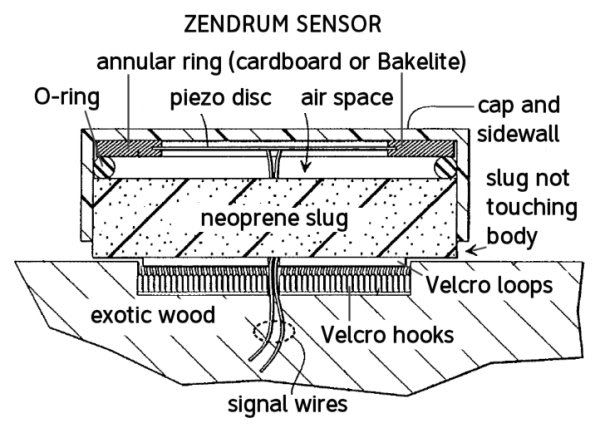 I wondered how they minimized cross talk (false triggering of adjacent pads).
I distilled this bumf from their
patent
on line:
"The transducers are covered by a rigid support member that comprises a cap and side wall element. Since, in the preferred embodiment, the transducer support members are round, side wall element is cylindrical and cap is circular. The piezoelectric transducer is conventional in nature and mounted to an annular ring made of dense cardboard, Bakelite or similar supporting material.

Annular ring is held in place by an O-ring that keeps annular ring urged up against cap. This provides an air space, indicated below piezoelectric transducer in the volume surrounded by O-ring.

A resilient support member is preferably embodied by a slug of neoprene foam. This is cut and sized so as to fit very snugly within the interior of side wall element so that the neoprene foam resilient support member will stay in place and keep O-ring seated against annular ring.

A disk of the hook element of hook and eye fastening material is glued to the bottom of neoprene resilient support member. A well is formed in top surface of main body at each transducer location. In the bottom of the well, a corresponding disk of eye material is glued in place. A hole passes through the bottom of well through which wire pair from piezoelectric transducer extends. It should be noted that the resilient support member is sized so that there is a gap between the bottom of side wall element and surface. This prevents the rigid support member from striking surface when it is hit to be activated during playing of the instrument."

The inventors of the present invention believe that the combination of resilient support member and hook and eye material are principally responsible for the improved isolation and thus, improved cross talk characteristics of the transducer shown. Furthermore, it is believed that employment of O-ring assists in reducing the response of piezoelectric member to external acoustic stimuli that are transmitted through cap and side wall element. It is further believed that the air space that is provided by O-ring assists in improving the sharpness of the velocity characteristics that are obtained by the preferred embodiment of this transducer.